Inclusive playground Faqs
7 Principles of Play:
Be Fair
Be Included
Be Smart
Be Independent
Be Safe
Be Active
Be Comfortable
Developmental Benefits of Inclusive Play
Inclusive playgrounds benefit all children, regardless of ability:  It helps them develop a true understanding of the world, to appreciate the differences between people and recognize the similarities that underlie them, to be tolerant of diversity and to accept others' perspectives.  By giving children with and without disabilities a chance to play together, inclusive play spaces can serve as joyful incubators of a more inclusive society, in which children with disabilities can participate equally and enjoy equal opportunities to flourish.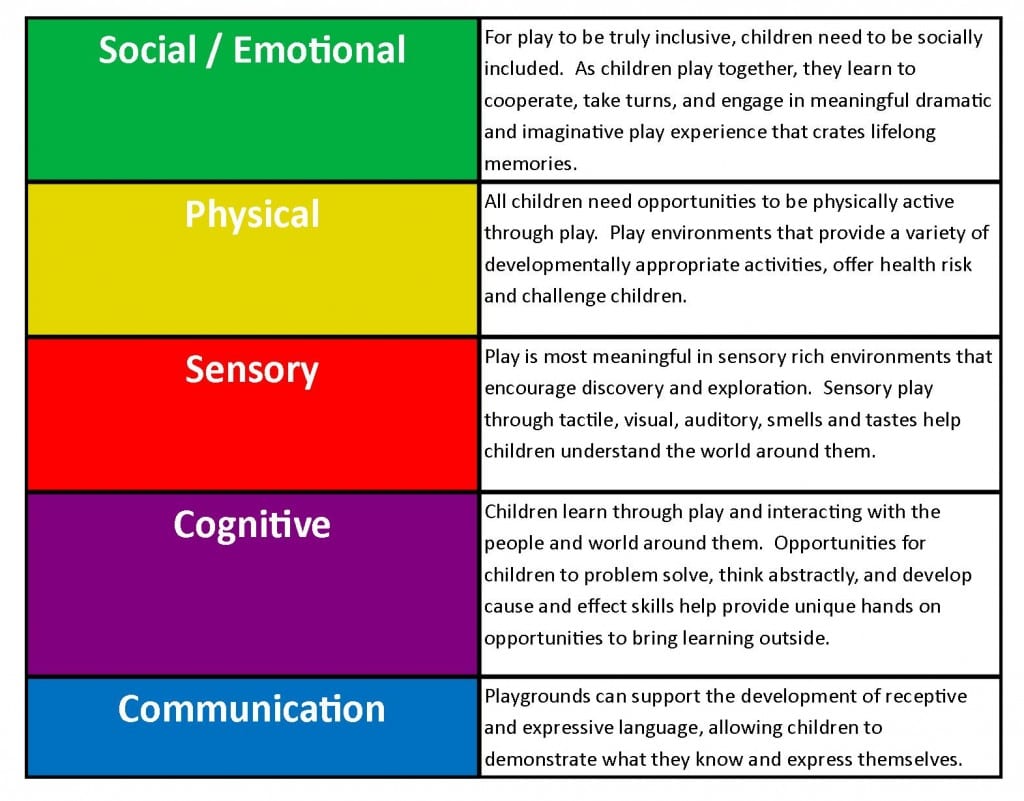 Who?
The Heartland Regional Medical Center Inclusive Playground is designed to allow for ALL individuals to engage in play. Special needs children and adults will be able to interact with all children and access the play area TOGETHER. In addition, special need adults, parents, grandparents and our wounded Veterans will have the ability to share in play with their children and grandchildren.
What?
Definition:  "Inclusive play" is a way of brdiging the divide between mainstream and special needs children.  Both groups can benefit from these play methods and learn a lot from mixing with those different to them.  Children at all ages learn in all aspects of development through play:  emotional, social, physical and mental.
Where?
The addition of the "NEW" Heartland Regional Medical Center Inclusive Playground will be located in Ray Fosse Park.
Why?
For children with disabilities the fulfillment of the right to play is often thwarted as a result of both physical barriers and social exclusion. Most often, the spaces and structures set up for children's play are not accessible to children with disabilities. The resulting lack of interaction between children with and without disabilities, in turn, reinforces the attitudinal barriers that relegate persons with disabilities to society's margins.
Teaching or facilitating children about similarities and differences and how to successfully play together can dramatically impact the quality of play experiences for all children. Intentional strategies to promote disability awareness provides children the tools to ask questions, get accurate information, explore their feelings, and learn how to positively interact with their peers.
How?
Marion Park District has contributed $150,000 and Heartland Regional Medical Center has donated $100,000 and is the "Naming Sponsor" of the Project. With the help of the community as "Donors" and "Equipment Sponsors", Marion Park District intends to make this new playground a "Destination" location for the Southern Illinois area.